Tuesday, April 24, 2012
DAILY TENNIS NEWS - BRIEFS
Copyright © 2012 Daily Tennis News Wire. All rights reserved. www.dailytennis.com
---
Djokovic Concerned About an ATP Rule
With tennis unrest starting to bubble again over prize money distribution and a chaotic Davis Cup schedule, Novak Djokovic has another bone to pick with the ATP. It's about the little-known regulation which allows the CEO to approve rules under certain conditions without a vote from the board.
That has the world No. 1 steamed, especially as it results in the Madrid Masters next month being played on blue clay. The other two members of the ATP top two are in agreement, with Roger Federer and Rafael Nadal also expressing disapproval of the ground-breaking concept.
Murray Salutes Clay King Nadal
Andy Murray has paid king of clay Rafael Nadal the ultimate compliment, suggesting that the Spaniard's historic run of eight straight Monte Carlo titles will stand as the test of time.
"You can never say 'never' but his eight in a row is a record that certainly be hard to break," said Murray, who is trying to make some history of his own by winning a second career match at this week's Barcelona Open.
Tennis Hall of Fame Honored Nastase, Durr, Clerici & Pietrangeli
European royals gathered with tennis legends to celebrate the sport and honor some of its most elite players at a Hall of Fame ring presentation that was hosted during La Grande Nuit du Tennis, the gala event of the Monte-Carlo Rolex Masters.
The honored recipients were former world No. 1, Ilie Nastase of Romania; France's beloved player Françoise "Frankie" Durr; the man heralded as the greatest Italian player of all time, Nicola Pietrangeli; and Italian tennis journalist Gianni Clerici.
National Jewish Sports Hall of Fame Induction to Include Tennis Connections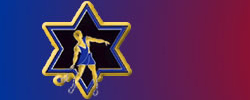 Nine men and women from the world of sports will be inducted into the National Jewish Sports Hall of Fame Museum at the 20th annual induction ceremony and another eight will be honored for their accomplishments.
Jerry Solomon, promoter of the BNP Paribas Challenge at MSG is being inducted while Greg Hirshman a tennis player at Stanford and Jake Freeman a H.S. tennis player are being honored.
Job of the Week
Greensboro Country Club has opening for a pro with tournament and college experience.
Compensation includes: above average base salary and commission on lessons and clinics. $60,000 + potential earnings. Benefits include: major medical, dental, 401(k) matching, meal allowance and vacation. Send resume with references to: gcctennis@greensborocc.org.
Featured Jobs
Assistant Women's Coach at State University of New York at Albany (pt) gordoncgraham@gmail.com.
Teaching Pro at The Tennis Center at College Park, Maryland. apant@thetccp.com
Bob Larson's Tennis Jobs publishes a weekly list of available tennis jobs throughout the US market. For a free sample of the current list, just email bob@tennisnews.com and say you want a free sample.
Vermont Club for Sale
Tennis Club for sale in Southern Vermont. A 2 Indoor, 2 Outdoor Court Facility ideal for Tennis Professional Husband/Wife team. Recent renovations include: New lighting system for indoor courts, new fitness facility, lounge and locker rooms. Call or e-mail Bob Cofer at (860)482-9424 or bob@pinewoodsclub.com.
---
Provide Daily Tennis News Briefs to Your Membership
Contact us at 952-920-8947 for details or email bob@tennisnews.com
---
THIS WEEK

MEN
Barcelona
Bucharest

WOMEN
Fes
Stuttgart

NEXT WEEK

MEN
Belgrade
Estoril
Munich

WOMEN
Budapest
Estoril

VIP DATES

Roland Garros: May 27-June 10

Wimbledon: June 25-July 8

Olympic Tennis London: July 28-August 5

US Open: August 27-September 9
RESULTS - MEN
MONDAY
Barcelona
Singles - First Round
(11) M Raonic def. A Falla 6-4 7-6(7-3)
S Giraldo def. (18) def. Istomin 7-6(7-3) 6-4
(Q) J Sousa def. I Kunitsyn 7-6(7-5) 6-3
S Darcis def. (Q) A Golubev 4-6 7-6(7-2) 7-6(7-5)
(Q) F Delbonis def. (Q) A Bedene 6-3 7-5
B Paire def. L Rosol 6-3 7-5
J Nieminen def. (WC) J Marti 6-4 6-1
(LL) E Schwank def. (WC) R Ramirez Hidalgo 2-6 6-4 6-0
A Montanes def. (WC) G Granollers-Pujol 7-5 6-2
(WC) F Krajinovic def. (WC) I Cervantes 6-2 6-4
E Roger-Vasselin def. (LL) S Robert 6-2 6-3
R Haase def. (Q) S Bubka 6-1 3-2 retired (ankle)
S Stakhovsky def. (LL) E Donskoy 6-2 6-3
Doubles - First Round
Marrero/Verdasco def. Andujar/Garcia-Lopez 7-6(7-1) 6-1
Almagro/Ramos def. Cabal/Farah 2-6 6-4 10-6 .

Bucharest
Singles - First Round
(7) L Kubot def. (WC) G Moraru 6-2 6-3
P Starace def. (9) J Chardy 6-3 6-0
M Bachinger def. F Volandri 3-6 6-1 6-3
X Malisse def. G Dimitrov 6-2 6-4
Doubles - First Round
Dodig/Melo def. (WC) Copil/Waske 6-1 6-2
RESULTS - WOMEN
MONDAY
Stuttgart
Singles Qualifying - Final Round
(3) Iveta Benesova def. Akgul Amanmuradova 6-2 4-6 7-6(7-3)
Anna Chakvetadze def. (7) Kateryna Bondarenko 6-3 7-6(7-2)
(8) Greta Arn def. Yvonne Meusburger 7-6(7-5) 6-0
Alize Cornet def. Annika Beck 6-4 4-6 7-6(7-1)
Doubles - First Round
Jans-Ignacik/Zhang def. (WC) Barthel/Malek 6-2 7-5
Barrois/Woehr def. (WC) Schiavone/Vinci 6-1 6-4

Fes
Singles Qualifying - Final Round
(2) Melinda Czink def. Ekaterina Ivanova 6-0 6-4
Arina Rodionova def. (3) Mathilde Johansson 5-7 6-4 6-3
(9) Garbine Muguruza Blanco def. Bianca Botto 5-7 6-1 6-3
Kiki Bertens def. Kristyna Pliskova 6-1 4-6 6-4
Singles - First Round
(1/WC) Anabel Medina Garrigues def. Nina Bratchikova 6-2 6-4
Patricia Mayr-Achleitner def. (4) Yanina Wickmayer 6-4 6-2
(6) Chanelle Scheepers def. Anastasia Rodionova 6-4 6-4
Irina-Camelia Begu def. Timea Babos 7-6(7-3) 6-3
Alexandra Cadantu def. Alberta Brianti 5-7 7-5 6-1
Mandy Minella def. Alexandra Panova 6-3 7-6(12-10)
(7) Klara Zakopalova tied with Arantxa Rus 4-6 7-5 5-5, suspended/darkness
Today's tennis results can be found at www.tennisnews.com
---
© Copyright 2012. No duplication is permitted without permission from Bob Larson Tennis