Wednesday, July 3, 2013
DAILY TENNIS NEWS - BRIEFS
© Copyright 2013 Daily Tennis News Wire. All rights reserved. www.dailytennis.com
---
Special Offer to Daily Tennis News Briefs Subscribers!!
Bob Larson Tennis is offering all subscribers of Daily Tennis News Briefs a FREE Trial of Daily Tennis News thru Monday, July 8, 2013. You will receive World News, Pro Tour News - Men and Pro Tour News - Women at no charge! Take advantage of our special summer trial and get complete coverage from Wimbledon and the rest of the tennis world. You will receive all the full stores from Bob Larson's Daily Tennis News sent directly to your email everyday thru July 8, 2013..
YES! I want a FREE Trial to Bob Larson's Daily Tennis News thru July 8, 2013 - CLICK HERE
Djokovic Likes Wimbledon, But Passes On The Strawberries
Wimbledon top seed Novak Djokovic has made a habit of passing up on the tournament's iconic strawberries and cream treat after trying the rich concoction back in his early days. The No. 1 who was among the first players to go onto a gluten-free diet several seasons ago, said that he's better off avoiding the tasty treat.
Flipkens Knows The Realities Of Life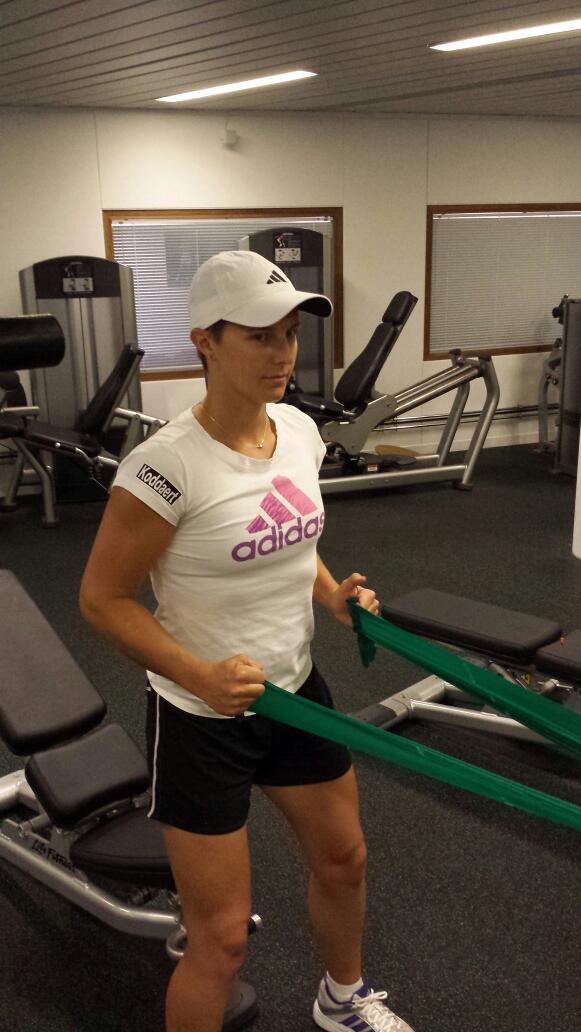 Surprise Wimbledon semi-finalist Kirsten Flipkens maintains a realization of what is truly important in life following a near-death experience just over a year ago and the help of now retired former world no.1 and US Open champion Kim Clijsters has pushed her to within two wins of doing what her mentor never achieved and hoisting the All England Club's trophy.
Federer Decides To Play Hamburg And Gstaad
There is a commonly held belief that the best way to overcome shock or disappointment is to get back to work straightaway. Although Roger Federer will have had a couple of weeks to come to terms with his earliest Grand Slam demise in more than a decade at Wimbledon, he has opted to play the clay-court German event, the Bet At Home Open in Hamburg beginning July 15 and the Credit Agricole Suisse Open in Gstaad beginning July 22.
Lisicki Has Polish Roots, Just Like Semifinal Foe Radwanska
Much is being made of Poland's success at this year's Wimbledon with three members of that nation having advanced deep in the tournament, and for good reason, but one of the women's semifinalists, Sabine Lisicki, could have also joined Agnieszka Radwanska, Jerzy Janowicz and Lukasz Kubot as representatives of the country had her parents not emigrated to West Germany from Poland in 1979.
Collins Received Hall of Fame Ring At Wimbledon
Bud Collins received his Hall of Fame ring on Saturday during Tennis Channel's Wimbledon coverage, where he was surrounded by friends and colleagues including Hall of Famers Martina Navratilova and Tracy Austin, whose careers' Collins covered from start to finish, and fellow tennis journalists from Tennis Channel. International Tennis Hall of Fame & Museum Chairman Christopher E. Clouser presented the ring, and Tennis Channel CEO Ken Solomon joined in.
To receive the full stories, subscribe to Daily Tennis News - HERE
---
Daily Tennis News—Business
Bob Larson Tennis produces several tennis newsletters. One of these is Daily Tennis News—Business. This publication is a daily report on the money in tennis; Who is getting the money, Where does it come from, What do they do with it and Where does it go.

If you are interested in the business side of tennis, you will find it interesting. For a free copy of Daily Tennis News—Business, just send an email to bob@tennisnews.com and say you want a sample of Tennis Business.
Tennis Jobs of the Week

The USTA/Midwest Section has an opening for the Digital Media Coordinator position. This is a fulltime position. The Digital Media Coordinator will lead all organizational efforts concerning social media. The position is responsible for all website administration including, but not limited to design, content development, and traffic analysis. This position will collaborate and work closely with other departments and committees to launch efforts that drive awareness of USTA programs and services, while increasing membership and participation.
To view the complete job description and qualifications visit the USTA/Midwest Section at www.midwest.usta.com. Please send resume and cover letter to midwesthr@midwest.usta.com. The submission deadline for resumes is July 19, 2013.
***
The Westside Club, Spartanburg, South Carolina, has several positions open in the 14 court club with 8 outdoor clay courts, 4 indoor hard courts and 2 outdoor hard courts. More information about the club can be seen at www.thewestsideclub.com. To be filled are Head Pro and several teaching pros.
Position Title: Head Tennis Professional
The Head Tennis Professional would report directly to the Tennis Director/General Manager/Owner.
Requirements:
Candidates should have a passion for tennis and at least 3 years of tennis coaching experience. The ideal candidate for this position will be a minimum 5.0 level player, have excellent verbal and written communication skills, ability to work with all ages and levels of players and be an organized creative team player as well as maintaining a motivated work ethic.
Position Description: The tennis professional hired for this position will teach private lessons, adult and junior clinics, as well as being responsible for helping run and create tournaments and other social events. They will also be responsible for promoting the tennis program and overall success of the Westside Club.
Certifications: Required.
Compensation: Provided upon request post application being received.
To Apply: All applicants should email a cover letter and resume to John White at jwhite@spartanlaw.com. Do not contact the club directly please.
Position Title: Tennis Pros
The Westside Club is looking for motivated tennis pros. Applicant must have a friendly, outgoing and enthusiastic nature.
Compensation: Provided upon request – post application being received.
To Apply Submit Resume to John White, Jr. at PO Box 2465, Spartanburg, SC 29304 or to jwhite@spartanlaw.com. Do not contact The Westside Club directly.
Bob Larson's Tennis publishes Daily Tennis Jobs newsletter, a daily list of available tennis jobs throughout the US market. Only $10 a month. For a free sample of the current list, just email bob@tennisnews.com and say you want a free sample of Jobs.
***
Tennis Job of the Day
Burlingame CC, Hillsborough, California seeks a pro. 650 696 8100.
Bob Larson's Tennis publishes Daily Tennis Jobs newsletter, a daily list of available tennis jobs throughout the US market. Only $10 a month. For a free sample of the current list, just email bob@tennisnews.com and say you want a free sample of Jobs.
---
Provide Daily Tennis News Briefs to your membership
Contact us at 952-920-8947 for details or email bob@tennisnews.com
---
THIS WEEK

MEN
Wimbledon

WOMEN
Wimbledon




NEXT WEEK

MEN
Bastad
Newport
Stuttgart

WOMEN
Budapest
Palermo
Today's tennis results can be found at www.tennisnews.com in the right column.
---
© Copyright 2013. No duplication is permitted without permission from Bob Larson Tennis