Wednesday, July 17, 2013
DAILY TENNIS NEWS - BRIEFS
© Copyright 2013 Daily Tennis News Wire. All rights reserved. www.dailytennis.com
---
Hingis To Return To Professional Tour
More than 12 years since last ascending to the WTA's world no.1 singles ranking and 11 years since winning the last of her Grand Slam titles, at doubles in the Australian Open with Ann Kournikova, Martina Hingis is returning to competitive tennis on the women's tour and will contest Mercury Insurance Open in Carlsbad, California later this month.
Bartoli And Tsonga To Play Hopman Cup
Newly crowned Wimbledon winner Marion Bartoli and compatriot Jo-Wilfried Tsonga will headline the field for the Hopman Cup at the end of the year as France became the first team to commit to the eight-nation mixed competition in Perth, Western Australia.
Tennis Canada To Honor Three
Tennis Canada announced that Billie Jean King, Pete Sampras and Tennis Canada chief operating officer Derek Strang will be inducted into the Rogers Cup Hall of Fame during the 2013 Rogers Cup presented by National Bank in Toronto in recognition of their contribution to Canada's premier tournament.
Federer Playing With New Racquet In Hamburg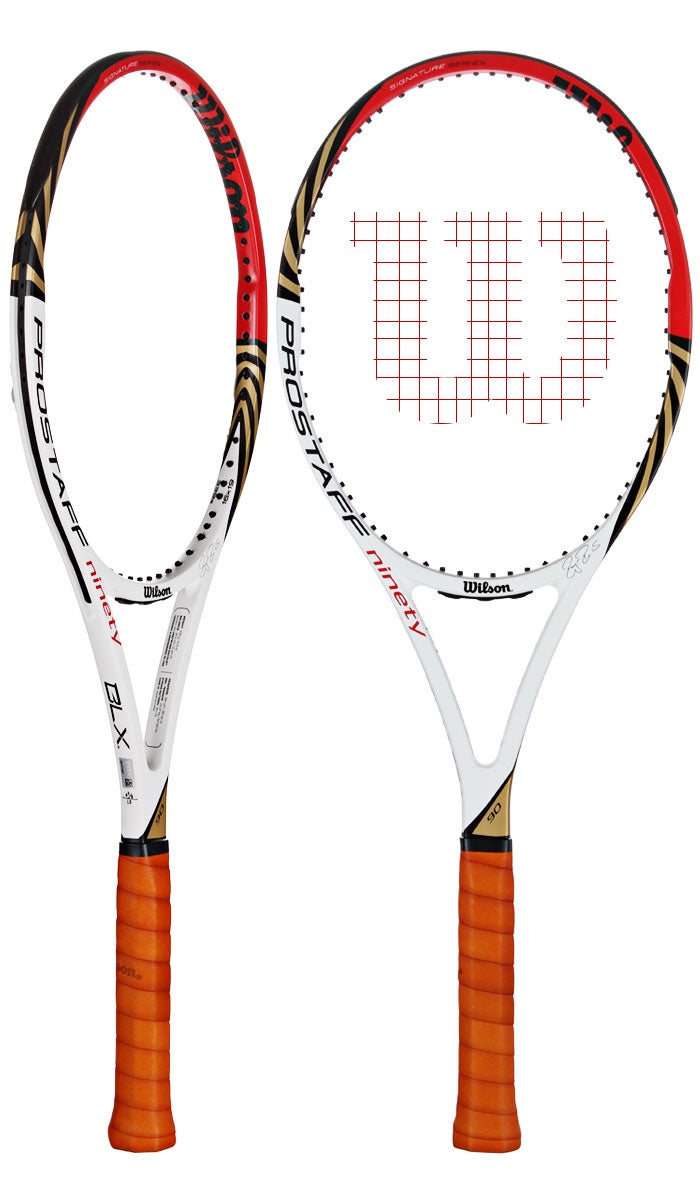 17-time Grand Slam winner Roger Federer is playing the tournament in Hamburg this week with a larger racket that is blacked out and will try it out against Daniel Brands today. The Swiss has been playing with a BLX Pro Staff 90 (shown at left) and says he is auditioning a larger 98 square inch frame.
To receive the full stories, subscribe to Daily Tennis News - HERE
---
Daily Tennis News—Business
Bob Larson Tennis produces several tennis newsletters. One of these is Daily Tennis News—Business. This publication is a daily report on the money in tennis; Who is getting the money, Where does it come from, What do they do with it and Where does it go.

If you are interested in the business side of tennis, you will find it interesting. For a free copy of Daily Tennis News—Business, just send an email to bob@tennisnews.com and say you want a sample of Tennis Business.
Tennis Jobs of the Week
Product Manager; Strings- Wilson Sporting Good Co.; Chicago, IL
Wilson Sporting Goods Co. in Chicago, IL is currently hiring a Product Manager for Strings. Will lead product development of strings, grips and stringing machines. Will provide analysis, communication, line planning, and exceptional direction for all markets as "the expert" in strings and grips. Ideal candidate will be an active tennis player with knowledge and experience with strings, grips, and stringing machines. This candidate should have at least 3 years of retail experience. If you are interested in applying, please send resume to rsjobs@wilson.com with subject line " Product Manager, Strings".
***
Associate Tennis Professional
Edmond Racquet Club, Edmond Oklahoma is a family oriented tennis club with a competitive Junior Tennis Academy.
Applicants for this full time position should be enthusiastic, quality individuals with college experience or minimum 4.5 rating. Responsibilities mainly include teaching private and group lessons both children and adults at many levels, stringing rackets, and some facility upkeep.
Medical and retirement benefits.
Contractual agreement required.
A university is located 5 miles away and scheduling is adaptable if you are additionally interested in educational opportunities.
Send resume to Dwight Nuckolls at edmondracquetclub@coxinet.net.
***
Digital Media Coordinator
The USTA/Midwest Section has an opening for the Digital Media Coordinator position. This is a fulltime position. The Digital Media Coordinator will lead all organizational efforts concerning social media. The position is responsible for all website administration including, but not limited to design, content development, and traffic analysis. This position will collaborate and work closely with other departments and committees to launch efforts that drive awareness of USTA programs and services, while increasing membership and participation.

To view the complete job description and qualifications visit the USTA/Midwest Section at www.midwest.usta.com. Please send resume and cover letter to midwesthr@midwest.usta.com. The submission deadline for resumes is July 19, 2013.
Bob Larson's Tennis publishes Daily Tennis Jobs newsletter, a daily list of available tennis jobs throughout the US market. Only $10 a month. For a free sample of the current list, just email bob@tennisnews.com and say you want a free sample of Jobs.
***
Tennis Job of the Day
Club Fit, Briar Cliff, New York, seeks a pro. 914 762 3444
Bob Larson's Tennis publishes Daily Tennis Jobs newsletter, a daily list of available tennis jobs throughout the US market. Only $10 a month. For a free sample of the current list, just email bob@tennisnews.com and say you want a free sample of Jobs.
---
Provide Daily Tennis News Briefs to your membership
Contact us at 952-920-8947 for details or email bob@tennisnews.com
---
THIS WEEK

MEN
Bogota
Hamburg

WOMEN
Bad Gastein
Bastad


NEXT WEEK

MEN
Atlanta
Gstaad
Umag

WOMEN
Baku
Stanford
Today's tennis results can be found at www.tennisnews.com in the right column.
---
© Copyright 2013. No duplication is permitted without permission from Bob Larson Tennis