Thursday, September 12, 2013
DAILY TENNIS NEWS - BRIEFS
© Copyright 2013 Daily Tennis News Wire. All rights reserved. www.dailytennis.com
---
Croatia Selects Teen-Ager For Davis Cup Duty This Weekend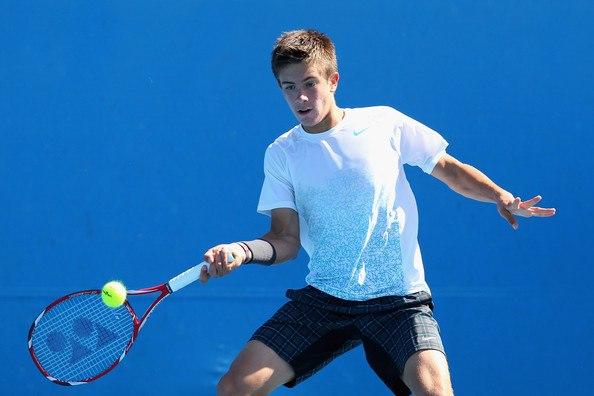 Croatia has sprung a surprise selection in their Davis Cup line-up against Britain in the World Group qualifying play-off.
They will pitch 16 year-old US Open Boys' champion Borna Coric into the fray against the might of Wimbledon champion and world no.3 Andy Murray.
Nadal Will Play Singles In Davis Cup Play This Weekend
Although Rafael Nadal admits he is tired and weary after an exemplary and unbeaten North American summer that culminated in Monday evening's US Open title win, he is happy to be pitched into the opening day singles as he makes his Davis Cup return for Spain in the World Group play-off against the Ukraine in Madrid.
Murray Sculpture Destroyed By Vandals
A sculpture honoring Wimbledon winner Andy Murray has been decapitated by vandals in Dorset, in the west of England.
Nadal Has His Eye On Federer's Slam Record
Rafael Nadal is far from overconfident that he might somehow be able to surpass the all-time record held by rival Roger Federer of 17 career grand slam event singles titles.
But with the Spaniard who won the US Open and standing just one trophy short of the 14 held by Pete Sampras, the question has to be asked. Is it reachable?
Murray Nominated For Fashion Award
Andy Murray may be able to recover quickly from his US Open quarter-final disappointment after being nominated for the 2013 Scottish Fashion Icon Award. The proposal of the formerly disheveled world No. 3 might say more about the state of Scottish fashion than anything about Murray, who admittedly did manage to scrub up well for the Wimbledon ball in July after he became the first British man to win the home honor in 77 years.
To receive the full stories, subscribe to Daily Tennis News - HERE
---
Daily Tennis News—Business
Bob Larson Tennis produces several tennis newsletters. One of these is Daily Tennis News—Business. This publication is a daily report on the money in tennis; Who is getting the money, Where does it come from, What do they do with it and Where does it go.

If you are interested in the business side of tennis, you will find it interesting. For a free copy of Daily Tennis News—Business, just send an email to bob@tennisnews.com and say you want a sample of Tennis Business.
***
Tennis Job of the Day
Youth Sports Organization, Redwood City, California seeks an U10 coach. 659 368 3953.
Bob Larson's Tennis is offering a special deal to first time subscribers. For only $17 Larson is offering an End of the Year subscription. Subscribe now for $17 and receive Daily Tennis Jobs until December 31, 2013. Contact bob@tennisnews.com.
Bob Larson's Tennis publishes Daily Tennis Jobs newsletter, a daily list of available tennis jobs throughout the US market. Only $10 a month. For a free sample of the current list, just email bob@tennisnews.com and say you want a free sample of Jobs.
***
A Collection of Tennis Images For Sale
A professional tennis photographer has been shooting for almost 40 years at all the major and minor tennis tournaments for the wires systems, daily newspapers, magazines and advertising agencies. He has been to venues all over the world and has compiled tennis images (archives) of all the professionals and some juniors. The images have all been preserved in a temperature-controlled environment and are color positives (slides), color and black & white negatives and contact sheets, as well as digital. There are in excess of 400,000 images and they are for sale. Seller will transfer copyright and will give total usage to the purchaser. Lists available with players, tournaments, dates, etc. For more information please contact 954-448-4999.
---
Provide Daily Tennis News Briefs to your membership
Contact us at 952-920-8947 for details or email bob@tennisnews.com
---
THIS WEEK

MEN
Davis Cup

WOMEN
Quebec City
Tashkent


NEXT WEEK

MEN
Metz
St. Petersburg

WOMEN
Guangzhou
Seoul
Today's tennis results can be found at www.tennisnews.com in the right column.
---
© Copyright 2013. No duplication is permitted without permission from Bob Larson Tennis