Tuesday, October 29, 2013
DAILY TENNIS NEWS - BRIEFS
© Copyright 2013 Daily Tennis News Wire. All rights reserved. www.dailytennis.com
---
Pospisil Was In Awe As He Began Match With Federer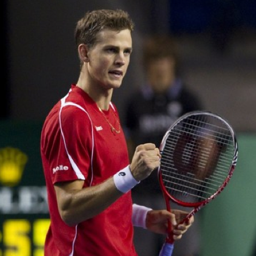 Canadian Vasek Pospisil was temporarily dumbstruck by pure awe in the early stages of his Basel semi-final against Roger Federer before settling in and giving his idol a workout at the Swiss Indoors before Federer's 6-3, 6-7(7), 7-5 win.
Williams Will Likely Dominate Women's Tennis Next Year
With 11 titles to her name in 2013, including two Grand Slam event titles and the WTA Championships, it is stating the blindingly obvious to say Serena Williams is by far the most dominant force in women's tennis. But the threat from within the Williams camp is that she will be even more supreme next year.
Tsonga Forms An All-French Coaching Team
Jo-Wilfried Tsonga has assembled an all-French coaching team which he will be sharing with compatriot Nicolas Mahut.
The Frenchman, who is fighting to book a spot in the World Tour Finals during this last week of the regular ATP season in Paris, revealed his dream team comprising ex-players Nicolas Escudé and Thierry Ascione.
Will No. 3 Ranking Inspire Li?
Li Na became the first Asia player to reach the No. 3 year-end ranking, but didn't have any energy left in the third set of her loss to Serena Williams.
She has made a number of changes this season, including installing serve and volley as portion of her game.
To receive the full stories, subscribe to Daily Tennis News - HERE
---
Daily Tennis News—Business
Bob Larson Tennis produces several tennis newsletters. One of these is Daily Tennis News—Business. This publication is a daily report on the money in tennis; Who is getting the money, Where does it come from, What do they do with it and Where does it go.

If you are interested in the business side of tennis, you will find it interesting. For a free copy of Daily Tennis News—Business, just send an email to bob@tennisnews.com and say you want a sample of Tennis Business.
***
Tennis Job of the Day
Southshore YMCA, Hanover, Massachusetts, seeks a pro. 781 829 8585.
Bob Larson's Tennis is offering a special deal to first time subscribers. For only $17 Larson is offering an End of the Year subscription. Subscribe now for $17 and receive Daily Tennis Jobs until December 31, 2013. Contact bob@tennisnews.com.
Bob Larson's Tennis publishes Daily Tennis Jobs newsletter, a daily list of available tennis jobs throughout the US market. Only $10 a month. For a free sample of the current list, just email bob@tennisnews.com and say you want a free sample of Jobs.
***
A Collection of Tennis Images For Sale
A professional tennis photographer has been shooting for almost 40 years at all the major and minor tennis tournaments for the wires systems, daily newspapers, magazines and advertising agencies. He has been to venues all over the world and has compiled tennis images (archives) of all the professionals and some juniors. The images have all been preserved in a temperature-controlled environment and are color positives (slides), color and black & white negatives and contact sheets, as well as digital. There are in excess of 400,000 images and they are for sale. Seller will transfer copyright and will give total usage to the purchaser. Lists available with players, tournaments, dates, etc. For more information please contact 954-448-4999.
---
Provide Daily Tennis News Briefs to your membership
Contact us at 952-920-8947 for details or email bob@tennisnews.com
---
THIS WEEK

MEN
Paris

WOMEN
Sofia

NEXT WEEK

MEN
London

WOMEN
Fe Cup Final
Today's tennis results can be found at www.tennisnews.com in the right column.
---
© Copyright 2013. No duplication is permitted without permission from Bob Larson Tennis