Tuesday, December 3, 2013
DAILY TENNIS NEWS - BRIEFS
© Copyright 2013 Daily Tennis News Wire. All rights reserved. www.dailytennis.com
---
Tennis South Africa Slits Davis Cup, Fed Cup Jobs
Tennis South Africa has decided to hire separate captains for the nation's Davis Cup and Fed Cup teams, a combined job John-Laffnie de Jager has been doing for eight years.
De Jager's contract ends in December and he will apply for the Davis Cup job, but someone else will handle Fed Cup duties.
For Sydney, Defending Champion Tomic Needed A Wildcard
Tennis Australia has had to throw a lifeline to struggling national No. 1 Bernard Tomic, with his current 52nd ranking not enough to get him straight into the field to defend his title starting in five weeks at the ATP Sydney event.
Tomic, 21, whose lone career title came a year ago at the venue when he looked to be on the verge of a breakthrough, will be given a free place in the field whose cut-off in No. 49. Play begins on January 5 at the former 2000 Olympic venue.
Martin Offering a Coaches Workshop In Florida
Todd Martin is partnering with Dr. Mark Kovacs and the International Tennis Performance Association to offer a unique Coaching Education Workshop at the Sawgrass Country Club in Ponte Vedra Beach, Florida on December 17th.
This is a one-day workshop covering all coaching aspects for coaches working with juniors 11-18 who are eyeing a collegiate or pro tour future. Information at 770 828 5779.
Smyczek back to Milwaukee in better shape
Fans got a taste of Tim Smyczek during the 2013 version of the US Open when he was the last American man standing by reaching the third round.
The Milwaukeean is hoping for a great reception when he participates in "Serves for Summit," a charity event benefiting the Summit Educational Association in the area. He will participate in an exhibition match next Saturday at Wisconsin Lutheran College and will be joined by ATP pros Denis Kudla, Rhyne Williams and Rajeev Ram. Local tennis legend Tom Gullikson will also attend.
Almagro And Lopez Commit To River Oaks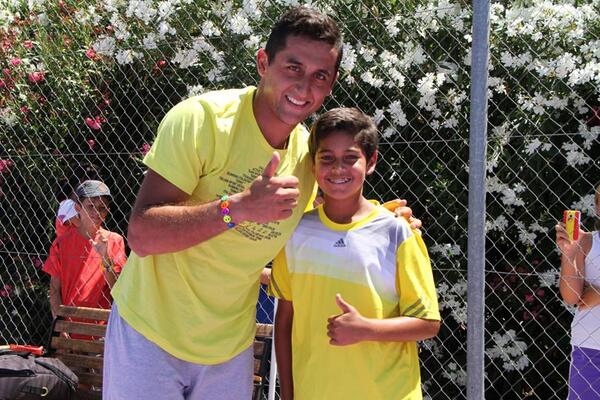 Nicolas Almagro, the 2013 finalist, and Feliciano Lopez, a 2012 semifinalist, have committed to play the 2014 Fayez Seraphim & Co. US Men's Clay Court Championship at River Oaks Country Club in Houston. These Spaniards will join defending champion John Isner in the field for the tournament April 7-13.
To receive the full stories, subscribe to Daily Tennis News - HERE
---
Daily Tennis News—Business
Bob Larson Tennis produces several tennis newsletters. One of these is Daily Tennis News—Business. This publication is a daily report on the money in tennis; Who is getting the money, Where does it come from, What do they do with it and Where does it go.

If you are interested in the business side of tennis, you will find it interesting. For a free copy of Daily Tennis News—Business, just send an email to bob@tennisnews.com and say you want a sample of Tennis Business.
***
Tennis Job of the Day
IMG Academy, Bradenton, Florida, seeks a coach. 942 752 2600.
Bob Larson's Tennis publishes Daily Tennis Jobs newsletter, a daily list of available tennis jobs throughout the US market. Only $10 a month. For a free sample of the current list, just email bob@tennisnews.com and say you want a free sample of Jobs.
***
A Collection of Tennis Images For Sale
A professional tennis photographer has been shooting for almost 40 years at all the major and minor tennis tournaments for the wires systems, daily newspapers, magazines and advertising agencies. He has been to venues all over the world and has compiled tennis images (archives) of all the professionals and some juniors. The images have all been preserved in a temperature-controlled environment and are color positives (slides), color and black & white negatives and contact sheets, as well as digital. There are in excess of 400,000 images and they are for sale. Seller will transfer copyright and will give total usage to the purchaser. Lists available with players, tournaments, dates, etc. For more information please contact 954-448-4999.
---
Provide Daily Tennis News Briefs to your membership
Contact us at 952-920-8947 for details or email bob@tennisnews.com
---
THIS WEEK

MEN
No Events

WOMEN
No Events

NEXT WEEK

MEN
No Events

WOMEN
No Events
Today's tennis results can be found at www.tennisnews.com in the right column.
---
© Copyright 2013. No duplication is permitted without permission from Bob Larson Tennis