Monday, January 27, 2014
DAILY TENNIS NEWS - BRIEFS
© Copyright 2014 Daily Tennis News Wire. All rights reserved. www.dailytennis.com
---
Wawrinka Is In Shock Winning Australian Open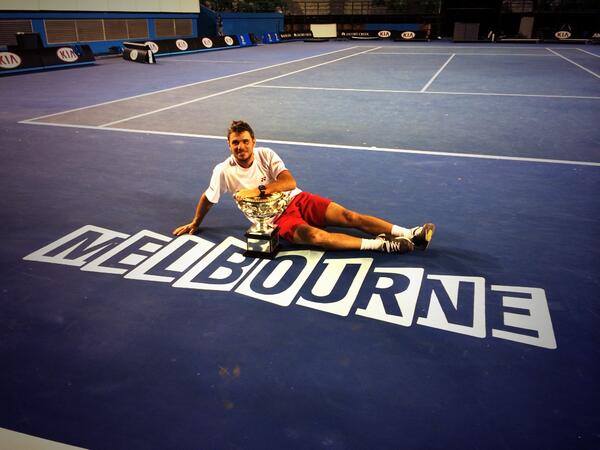 Australian Open champion Stanislas Wawrinka was still in a state of some disbelief two hours after beating the injured Rafael Nadal to win a first ever major title. And voicing his confusion he said: "I never expected to win a Grand Slam. I never dreamed about that because for me, I was not good enough to beat those top guys."

"Old" Li Wins A New Championship
When Li Na won the French Open, approaching four years ago, she admitted she wasn't expecting her victory and things went too fast so she couldn't savor her celebrations. After finally adding the Australian Open after two disappointments in finals, she does not intend to be so wasteful.

Wawrinka Is Ranked 3 On ATP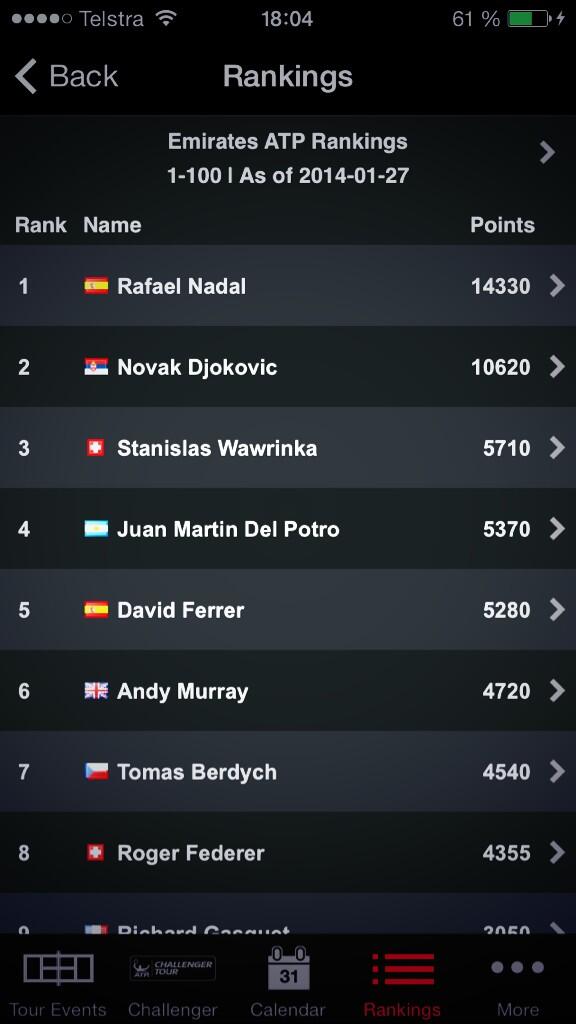 Stanislas Wawrinka could not believe his new position as third in the ATP rankings after beating wounded Rafael Nadal to surprise the tennis world with an Australian Open title. The 6-3, 6-2, 3-6, 6-3 thriller, with Nadal nursing a back problem from the start and almost quitting the match in tears will go down as one of the major shocks of any season. Wawrinka, 28, had lost a dozen previous matches to the all-conquering Spaniard.
"To win a slam, to be No. 3, both for me are a big surprise," said Wawrinka, who now stands behind Nadal and Novak Djokovic in the ATP pecking order. "But I think (it's more important) more to win a slam. In the ranking you can be number three without winning a slam."

Doha Popular With Top Players But Hurting Fed Cup
The WTA Premier 5 tournament in Doha, which starts Feb. 10, the day after Fed Cup weekend, is already wreaking havoc on the competition. Few players want to fly to the tournament on Sunday night or Monday and not all have byes. Victoria Azarenka of Belarus has already opted out of Fed Cup, Serbia's Ana Ivanovic and Jelena Jankovic say they are doubtful for their tie with Canada in Montreal.
Sampras Won't Wear Coaching Hat
Pete Sampras attended the Australian Open in celebration of the 20th anniversary of his 1994 title win and met up with a bunch of his former playing peers including Michael Chang, Jim Courier, Ivan Lendl, Boris Becker and Stefan Edberg, all of who are coaching in some capacity. But the 14-time Grand Slam champion has no intention of putting a coach's hat on himself.
To receive the full stories, subscribe to Daily Tennis News - HERE
---
Daily Tennis News—Business
Bob Larson Tennis produces several tennis newsletters. One of these is Daily Tennis News—Business. This publication is a daily report on the money in tennis; Who is getting the money, Where does it come from, What do they do with it and Where does it go.

If you are interested in the business side of tennis, you will find it interesting. For a free copy of Daily Tennis News—Business, just send an email to bob@tennisnews.com and say you want a sample of Tennis Business.
***
Tennis Job of the Day
Missouri State University, Springfield, Missouri seeks a head women/s coach. 417 836 5000.
Bob Larson's Tennis publishes Daily Tennis Jobs newsletter, a daily list of available tennis jobs throughout the US market. Only $10 a month. For a free sample of the current list, just email bob@tennisnews.com and say you want a free sample of Jobs.
***
Tennis Job of the Week
Sales Manager
The College Park Tennis Club (CPTC) is interviewing for a full time sales manager. Benefits include health insurance.
The CPTC is a premiere tennis club located just outside downtown Washington, DC. The College Park Tennis Club is a USTA Regional Training Center, home of the Junior Tennis Champions Center training program, as well as, the University of Maryland tennis team. The CPTC is an award-winning facility and is recognized as one of the most comprehensive tennis venues in the United States.
Sales Manager is responsible for new memberships and retention. Duties include internal and external lead generation, networking, prospecting, tours, corporate outreach and helping promote our patented beginner tennis program, Rally in 10. Must be proficient with all social media, including generating leads on our upcoming website. A tennis playing/teaching background is preferred and an appreciation of the values of the sport is mandatory.
Email your resume to apant@cptennisclub.com.
***
A Collection of Tennis Images For Sale
A professional tennis photographer has been shooting for almost 40 years at all the major and minor tennis tournaments for the wires systems, daily newspapers, magazines and advertising agencies. He has been to venues all over the world and has compiled tennis images (archives) of all the professionals and some juniors. The images have all been preserved in a temperature-controlled environment and are color positives (slides), color and black & white negatives and contact sheets, as well as digital. There are in excess of 400,000 images and they are for sale. Seller will transfer copyright and will give total usage to the purchaser. Lists available with players, tournaments, dates, etc. For more information please contact 954-448-4999.
---
Provide Daily Tennis News Briefs to your membership
Contact us at 952-920-8947 for details or email bob@tennisnews.com
---
THIS WEEK

MEN
Davis Cup

WOMEN
Paris
Pattaya City


NEXT WEEK

MEN
Montpellier
Vina del Mar
Zagreb

WOMEN
Doha
Today's tennis results can be found at www.tennisnews.com in the right column.
---
© Copyright 2014. No duplication is permitted without permission from Bob Larson Tennis