Thursday, February 6, 2014
DAILY TENNIS NEWS - BRIEFS
© Copyright 2014 Daily Tennis News Wire. All rights reserved. www.dailytennis.com
---
Family Emergency Force King To Miss Sochi Olympics
President Barack Obama intended the appointment of tennis legend Billie Jean King as one of two United States delegates for the Winter Olympics in Sochi as a clear message of contempt for Russia's anti-gay legislation. Now sadly King will not be able to attend because of ill health to her 91 year-old mother.

Rotterdam Confident Del Potro Will Play In Event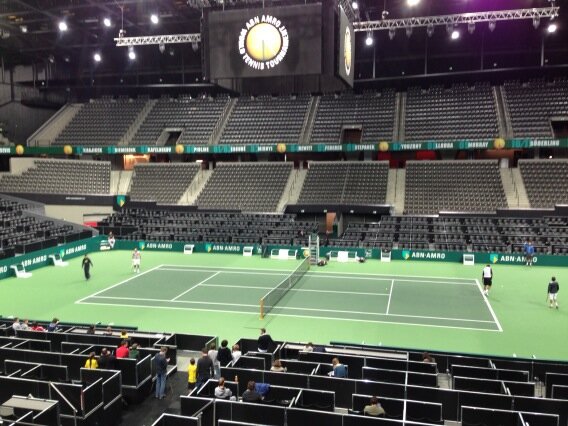 Rotterdam tournament director Richard Krajicek has a right to feel jittery about his indoor line up for next week after the injury pullout of Australian Open champion Stanislas Wawrinka. In addition, Canadian drawcard Milos Raonic, the world No. 11 could be in doubt due to an ankle injury which forced him from Davis Cup as well as this week's tournament in France.

Doha To Settle Women's Doubles #1
The Italian duo of Sara Errani and Roberta Vinci have stood atop the women's doubles rankings, either jointly or individually, ever since the 2012 US Open. But that could be about to change.
The Netherlands Begin Fed Cup Action With Two Wins
The Fed Cup's World Group does not spring into life until tomorrow but lower down the pecking order The Netherlands became the first country to earn a place in Sunday's play-offs as they recorded their second successive victory in Europe/Africa Zone Group I.
To receive our full stories, subscribe to Daily Tennis News - HERE
---
Daily Tennis News—Business
Bob Larson Tennis produces several tennis newsletters. One of these is Daily Tennis News—Business. This publication is a daily report on the money in tennis; Who is getting the money, Where does it come from, What do they do with it and Where does it go.

If you are interested in the business side of tennis, you will find it interesting. For a free copy of Daily Tennis News—Business, just send an email to bob@tennisnews.com and say you want a sample of Tennis Business.
***
Tennis Job of the Day
Mercy Healthplex, Cincinnati, Ohio, seeks a pro. 513 624 1871.
Bob Larson's Tennis publishes Daily Tennis Jobs newsletter, a daily list of available tennis jobs throughout the US market. Only $10 a month. For a free sample of the current list, just email bob@tennisnews.com and say you want a free sample of Jobs.
***
Tennis Job of the Week
Sales Manager
The College Park Tennis Club (CPTC) is interviewing for a full time sales manager. Benefits include health insurance.
The CPTC is a premiere tennis club located just outside downtown Washington, DC. The College Park Tennis Club is a USTA Regional Training Center, home of the Junior Tennis Champions Center training program, as well as, the University of Maryland tennis team. The CPTC is an award-winning facility and is recognized as one of the most comprehensive tennis venues in the United States.
Sales Manager is responsible for new memberships and retention. Duties include internal and external lead generation, networking, prospecting, tours, corporate outreach and helping promote our patented beginner tennis program, Rally in 10. Must be proficient with all social media, including generating leads on our upcoming website. A tennis playing/teaching background is preferred and an appreciation of the values of the sport is mandatory.
Email your resume to apant@cptennisclub.com.
***
Tennis Jobs of the Month
Adult Program Coordinator
"The USTA/Midwest Section is looking for a full-time Adult Program Coordinator. The Adult Program coordinator duties will include promoting, recruiting and coordinating participation in the USTA League Program as well as promoting, developing and growing the USTA/Midwest Section Tennis on Campus program. The submission deadline for resumes and cover letters is February 28, 2014. Please send resumes and cover letters to midwesthr@midwest.usta.com. For more information on this position, visit the USTA/Midwest Section at www.midwest.usta.com."
***
Title: Digital Specialist
Dept: Racquet Sports
Location: Chicago
Resumes to: rsjobs@wilson.com
OVERVIEW:
Wilson Sporting Goods is looking for a Digital Specialist to be responsible for supporting the design and implementation of all digital and community based assets for the Racquet Sports Division. This hands-on role will execute the development and implementation of digital materials that support and improve the company's online user experience while systematically growing the brands reach and presence.
Specific duties may include:
Support the development, implementation and evolution of the Wilson Racquet Sports Divisions Business to Consumer (B2C) and Business to Business (B2B) online programs
Administer and monitor the businesses digital media strategies and performance, including scheduling, budgets and providing periodic status reports to management, and incorporating feedback to and from the executive level
Administer and support the brands Social Media strategy and targeted marketing programs such as SEM, SEO, CRM, online media and other acquisition and customer retention programs
Administer and manage the scope of work with outside digital agencies and in-house marketing team to achieve critical online growth goals

Manage the user experience (UX) for Wilson.com/tennis and support the further development of Wilson's global web presence

Manage brand and retail partner website shopping cart strategies including maintenance and brand promotional execution
EDUCATION & EXPERIENCE
QUALIFICATIONS
Ability to digest web and online sales metrics to demonstrate return on investment and overall performance

Extensive experience in building brand communities utilizing social media content appropriate for Facebook, Twitter, YouTube, etc

Comprehensive knowledge of e-marketing strategies and implementation, including website content management, search engine optimization and tracking, database management, email marketing
Excellent communication, interpersonal and organizational skills
Ability to handle and prioritize multiple requests at once
Continual attention to detail in producing deliverables, establishing priorities and meeting deadlines
Experience with working with marketing and sales professionals desirable

Strong knowledge of web technologies (HTML & JavaScript & Flash)

Limited travel about 5%
Wilson Sporting Goods Co. is the brand behind more winning moments in sports every day than any other brand in the world. We have been at the heart of sports history for almost a century, and no other company has been as influential and intimately involved in shaping the games of tennis, golf, baseball and American football as Wilson.
If you meet our requirements and are interested in joining our legacy of achievement, please send your resume to rsjobs@wilson.com with subject line: Digital Specialist. We offer a casual, comfortable work environment and excellent benefits.
***
A Collection of Tennis Images For Sale
A professional tennis photographer has been shooting for almost 40 years at all the major and minor tennis tournaments for the wires systems, daily newspapers, magazines and advertising agencies. He has been to venues all over the world and has compiled tennis images (archives) of all the professionals and some juniors. The images have all been preserved in a temperature-controlled environment and are color positives (slides), color and black & white negatives and contact sheets, as well as digital. There are in excess of 400,000 images and they are for sale. Seller will transfer copyright and will give total usage to the purchaser. Lists available with players, tournaments, dates, etc. For more information please contact 954-448-4999.
---
Provide Daily Tennis News Briefs to your membership
Contact us at 952-920-8947 for details or email bob@tennisnews.com
---
THIS WEEK

MEN
Montpellier
Vina del Mar
Zagreb

WOMEN
Fed Cup

NEXT WEEK

MEN
Buenos Aires
Memphis
Rotterdam

WOMEN
Doha
Today's tennis results can be found at www.tennisnews.com in the right column.
---
© Copyright 2014. No duplication is permitted without permission from Bob Larson Tennis