Notice: Undefined variable: page_title in /home/tennisne/public_html/wp-content/themes/dante-child/single.php on line 205

Copyright © 2015. No duplication is permitted without permission from Bob Larson Tennis.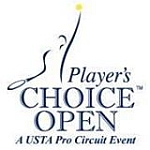 Players stepped back on court today after Sunday's matches were cancelled due to rain. Rain did not hinder the quality of play, or focus of tournament players as they continued their journey out of the third round of the qualifying draw.
Frenchman, Chris Devoize outlasted Matthew Rossouw 7-5, 2-6, 6-3 today. This is Devoize's second match in a row that went to three sets. He is scheduled to face either thirteen seed Jordi Arconada or Robert Herrera in the fourth round. Their match will conclude on Tuesday.
Fifth seed Boris Bakalov lost to Tassilo Schmid 6-3, 6-1. Schmid is one of three Germans that has made it to the final round of the qualifying draw. Schmid will face off against twelfth seed D. Biosca Girvent tomorrow.
Freshman Volunteer, Timo Stodder beat Vadym Kalyuzhnyy in close straight sets 6-4, 7-6(7) to continue main draw hope. He will meet the University of Alabama assistant coach Ryler Deheart in the fourth and final qualifying round. Deheart has yet to be pushed in his first three matches, but this match-up will test both players resolve to win.
Eighth seed Luciano Betella of Argentina defeated American junior Christopher Yun 6-2, 6-2. Betella awaits the conclusion of Joel Link and Kai Lemke's match.
Nine third round matches have been delayed due to weather. Qualifying rounds will resume on Tuesday alongside seven main draw singles matches and at least three double matches will commence.
Player's Choice Open
A USTA Pro Circuit Event
Monday, November 2, 2015
Highland Park Tennis Center
Birmingham, AL
Purse: $10,000
Surface: Clay-Outdoor
Monday, November 2- RESULTS
Qualifying Singles- Third Round
Chris Devoize, France, def. Matthew Rossouw, South Africa, 7-5, 2-6, 6-3,
Timo Stodder, Germany, def. Vadym Kalyuzhnyy, Ukraine, 6-4 7-6(7),
Tassilo Schmid, Germany, def. Boris Bakalov (5), Bulgaria, 6-3, 6-1,
Ryler Deheart, United States, def. Karan Lalchandani, India, 6-0, 6-0,
D. Biosca Girvent (12), Spain, def. Aron Pierce, United States, 6-4, 6-3
Luciano Betella (8), Argentina, def. Christopher Yun, United States, 6-2, 6-2,
J. Gonzalez Carrasco (4), Chile, def. Iznaur Akhmaev, Russian Federation, 6-2, 6-1.
Tuesday, November 3- SCHEDULE
Qualifying Singles- Third and Fourth Round
Order of play is unavailable, but match play will begin at 9:00am.
Main Draw Singles- First Round
Matches starting at 10:00am:
Evan King (2) vs. Dominic Cotrone, followed by
Alexios Halebian (8) vs. Filippo Leonardi, followed by
Jean-Yves Aubone (6) vs. Benjamin Lock, followed by
Matches starting at 11:00am:
Nick Chappell vs. Korey Lovett, followed by
Piotr Lomack vs. Patrick Daciek, followed by
Ryan Lipman vs. Ravi Patel
Doubles- First Round
Matches starting at 1:00pm:
Gandhi Bhakthavachalam and Ethan Dunbar vs. Alexios Halebian and Evan Song
Grayson M. Goldin and Korey Lovett vs. Jared Hiltzik and Piotr Lomacki
Copyright © 2015. No duplication is permitted without permission from Bob Larson Tennis.