Notice: Undefined variable: page_title in /home/tennisne/public_html/wp-content/themes/dante-child/single.php on line 205

Copyright © 2015. No duplication is permitted without permission from Bob Larson Tennis.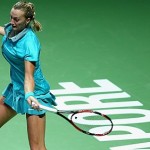 Photo by Getty Images (WTA)
Petra Kvitova stunned Maria Sharapova on Saturday night to set up a championship clash against Agnieszka Radwanska at the BNP Paribas WTA Finals Singapore presented by SC Global.
The day's first semifinal was already an underdog story with Radwanska, who had gone 1-2 in the round robin portion, ending the perfect week of Garbiñe Muguruza, who had gone 3-0 in the round robin.
And it was exactly the same story in the second semifinal as Kvitova, 1-2, came out swinging against Sharapova, 3-0, reeling off four games in a row to capture the 42-minute opening set, 6-3.
The No.3-seeded Sharapova rebounded in a big way in the second set, storming out to a 5-1 lead, even bringing up a set point at 5-3, but the No.4-seeded Kvitova caught fire one last time, winning five of the next six games to push the set to a tie-break then taking seven of eight points from 2-0 down to close the match out in straight sets, 6-3, 7-6(3), letting out one last battle cry on match point.
"I didn't expect this, for sure," Kvitova said in her on-court interview after the match. "I had two losses in my group, and I couldn't really believe I would play the semifinals. And I knew Maria would be strong today – she played so well in the round robin group, so I expected a really tough match.
"But I knew I had the game to beat her, and that I really had to keep trying today."
The Czech looked completely down and out in the second set, but she really did keep trying.
"She came back in the second set and played really strong, everything well placed and strong shots, but I was just trying to continue in the plan that I had, trying to stay aggressive and everything.
"I just took my chances and I'm really happy with the way I finished the match today."
Kvitova is now a win away from one of the biggest titles of her career – she's a two-time Grand Slam champion, at Wimbledon in 2011 and 2014, and she's a former WTA Finals champion as well, in 2011.
Additionally, with Saturday's victory over Sharapova, Kvitova, like Radwanska did earlier in the day, assured herself of passing the $20-million mark in career prize money when the tournament is over.
Kvitova leads Radwanska in their head-to-head series, 6-2, and Kvitova won their only 2015 meeting, but Radwanska actually beat Kvitova on this same court in the round robin at last year's WTA Finals.
"I saw a bit how she played against Muguruza, and she's really on fire as well," Kvitova said.
Source: WTA
Copyright © 2015. No duplication is permitted without permission from Bob Larson Tennis.