Notice: Undefined variable: page_title in /home/tennisne/public_html/wp-content/themes/dante-child/single.php on line 205

Copyright © 2016. No duplication is permitted without permission from Bob Larson Tennis.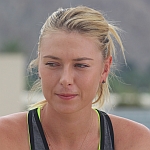 A United Nations subsidiary is piling on Maria Sharapova even before her anti-doping case is fully decided with the international bureaucracy suspending the Russian from her role as a goodwill ambassador. Paper-pushers made the call as the highest-earning woman in all of sport awaits her fate after testing positive at the Australian Open for a just-banned medicine she had been taking under medical supervision for a decade.
Sentiment in the controversial case tearing at the heart of tennis is mixed, with sponsors including Nike and Porsche abandoning the 28-year-old five-time grand slam winner while others including her own candy conglomerate Sugarpova supporting her and Evian reserving judgment but carrying on with the commercial relationship.
Sharapova has said she missed a series of not-so-prominent memos from the international anti-doping cartel WADA and admitted her mistake last week after the drug meldonium was banned from last January 1. The UN joined in those kicking the former darling of the sport and longtime face of the WTA.
Sharapova had worked for the UN Development Program for the past nine years, and had been active in helping recovery efforts after the 1986 Chernobyl disaster, the city of her birth in 1987.
"The United Nations Development Program remains grateful to Maria Sharapova for her support of our work, especially around the Chernobyl nuclear disaster recovery," said the faceless body. "However, in light of Ms. Sharapova's recent announcement, we last week suspended her role as a Goodwill Ambassador and any planned activities while the investigation continues."
Sharapova has in the past donated $100,000 to support youth projects in rural areas near the site of the Chernobyl nuclear accident and has made goodwill visits to the area. Her family fled Gomel in Belarus in 1987 after nuke exploded, eventually moving to Florida where her tennis career began.
Copyright © 2016. No duplication is permitted without permission from Bob Larson Tennis.