Notice: Undefined variable: page_title in /home/tennisne/public_html/wp-content/themes/dante-child/single.php on line 205

Copyright © 2015. No duplication is permitted without permission from Bob Larson Tennis.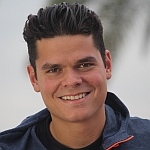 The Canadian Milos Raonic has fallen down to No. 14, but he was hurt much of this year and he is only 24-years-old, so next year, it is possible he can push back into the top 10 and maybe sometime, he can win his  first Grand Slam event.
But he still has a lot of work ahead.
The former player Sebastian Lareau, who won the 2000 Olympic Gold at Sydney with Daniel Nestor, said that Milos has to have a better return and come in more to the net.
"With his physique and his big serve and his aggressive game style he would make the rallies so much shorter if he came in a bit more," Lareau told Daily Tennis News. "Obviously I think that's going to be something he's looking to work on more in the next year or two as that would make a huge difference, that would make his matches not as long. He would finish quicker in the rallies that would make a difference. But he's playing a bit of doubles, not really seriously just for fun or Davis Cup but it could help. The return part of his game has always been his weakness, so he seems to be going for a lot on the second serve return. First serves, well they are tough to return. That's obviously another part he could improve. I'm sure he will work on that because he works really hard."
The Canadian Lareau won the doubles title at the US Open with Alex O'Brien in 1999, and he was had to face against the great competitors. He knows that Raonic has improved a great deal since he was a teenager, but against the big boys, he still hasn't figured them out yet.
Last rear he cracked the No. 4, but the Grand Slam winners are very tough to stop him. Head to head, Raonic is 0-5 against Novak Djokovic, 1-9 versus Roger Federer, 1-6 and Rafael Nadal and 0-4 against Stan Wawrinka. Thankfully, he is 3-3 versus Andy Murray.
Maybe he will understand how to top them in 2016.
"They are really good, especially Djokovic, Federer is playing well again," Lareau  said. "Nadal seems to be coming back too a bit. It's tough but I think he can because with a weapon like that you can't go on the court with Milos and think it's going to be an easy match with his big serve because you have very few opportunities. The serves and breakpoints that you have to convert on. There's a lot of pressure when you play a guy like that, you can't lose your serve. He's got the weapons. He could be a bit better footwork, stay a bit longer in the rallies, not always going for so much all the time, but I think that's going to come with experience and maybe a bit more confidence too. He's got a shot."
Copyright © 2015. No duplication is permitted without permission from Bob Larson Tennis.