Notice: Undefined variable: page_title in /home/tennisne/public_html/wp-content/themes/dante-child/single.php on line 205

Copyright © 2016. No duplication is permitted without permission from Bob Larson Tennis.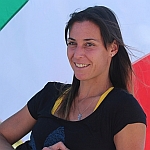 The Italian renaissance in women's tennis is gaining more momentum with almost every tournament that passes and the old adage that there is no substitute for experience is abundantly clear as 35 years-old Francesca Schiavone and Sara Errani, just 28 years of age, followed Roberta Vinci (33) with WTA titles.
Flavia Pennetta of course started the trend last September by winning the US Open at the age of 33. Vinci followed suit a couple of weeks ago at the St. Petersburg Open and last week's champions included Schiavone at the Rio Open and Errani at the Dubai Duty Free Championships.
It was former French Open champion Schiavone's first singles title for nearly three years and after her 2-6,6-2,6-2 win over the American Shelby Rogers, she said: "I feel very emotional right now."
Schiavone took the liberty of penning a victory speech in Portuguese and delighted the Rio de Janeiro crowd. "I'm really happy to be here," she maintained. "I wrote this speech this morning, regardless of the result, because I wanted to share my joy with you.
"Today is a happy day and I'm very emotional because Brazil is such a wonderful country. Your smile fulfilled my days here and I wish you the best for the Olympic Games. I want to thank everybody who helped me, and now it´s time to enjoy."
Errani was dominant with the most one-sided final in the 16 years history of the Dubai Duty Free Championships on the WTA circuit with a 6-0,6-2 win over Barbora Strycova of the Czech Republic.
A runner-up in Dubai three years ago, unseeded Errani admitted she only decided to play the tournament at the last moment after disappointing early year results including a first round exit at the Australian Open.  However she gained momentum throughout the week and capitalized on Strycova's nerves in the final to clinch the US$465,480 winner's check.
"This is an unexpected title for me," admitted Errani who overpowered Strycova with her determination from the opening game. "I was thinking maybe to not come here and just stay home and recover.
"Every day here has been really tough, from being 5-1 down in my first round and there have been some very difficult moments. But to win a tournament, you have to pass a lot of those bad moments. I was ready to suffer, to stay on the court when I was not really playing good."
Relations between Errani and Vinci are still said to be less than cordial following their much-publicized doubles split last year. However the Dubai champion gave insight into the run of Italian success when she revealed Pennetta, Schiavone, Vinci and her once formed a group on a well-known social network.
"Maybe we help each other to take more and try more things and be confident to can do more things," said Errani. "Schiavone, Flavia, Robbie, and me, we have a WhatsApp group. It's still going. We had unbelievable results, all four of us, but I don't really know what happens."
Copyright © 2016. No duplication is permitted without permission from Bob Larson Tennis.