Notice: Undefined variable: page_title in /home/tennisne/public_html/wp-content/themes/dante-child/single.php on line 205

Copyright © 2016. No duplication is permitted without permission from Bob Larson Tennis.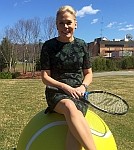 ESPN has reached an agreement with Chris McKendry in which the longtime SportsCenter anchor and host of live events including the Little League World Series will focus on tennis, continuing to front ESPN's start-to-finish and extensive coverage of three of the sport's Majors – the Australian and US Opens and Wimbledon.
"On July 27, 1996, I made my SportsCenter debut," McKendry recalls.  "A newly hired reporter visiting Bristol, I was just a fill in.  I never left.  I found myself next to those whose talents, personalities and reputations initially scared me to death only to realize that I had found what would be my home for nearly 20 years.
"But when ESPN first assigned me to the Australian Open in 2010, I knew instantly that I was working on my future.  I've decided the future is now.  Wimbledon is one of sports' most iconic competitions and venues, and that's where you'll find me next.  I have a seat there because of the seat I've occupied on SportsCenter. For that, I am forever grateful."
McKendry joined ESPN in 1996 as a SportsCenter anchor, adding a wide variety of assignments over the years – the Scripps Howard National Spelling Bee; the Little League World Series in Williamsport, Pa.; the Winter X Games and serving as a sideline reporter at the 1999 FIFA Women's World Cup, in addition to tennis, which also included the French Open for many years.
"Chris instantly and seamlessly became part of the travelling road show that is the ESPN tennis family," said Jamie Reynolds, ESPN vice president, production.  "Our telecasts are elevated by her professionalism, dedication, personality and lifelong love of tennis, and we all look forward to continuing to have her as part of the team."
Born in Philadelphia, McKendry was graduated in 1990 from Drexel University with a bachelor's degree in humanities.  A dean's list scholar for three years, she was a scholarship tennis player.
Copyright © 2016. No duplication is permitted without permission from Bob Larson Tennis.