Wednesday, October 23, 2013
DAILY TENNIS NEWS - BRIEFS
© Copyright 2013 Daily Tennis News Wire. All rights reserved. www.dailytennis.com
---
Russia Having Difficulty Creating A Fed Cup Team
The Fed Cup is supposedly the foremost team competition in the female tennis world but while the currently fit top eight players are battling it out in this week's TEB BNP Paribas WTA Championships in Istanbul, next week's Italy v Russia final in Cagliari, Sardinia is descending into farce.
Britain's LTA Preparing For New Chief's Arrival
Britain's Lawn Tennis Association will welcome a new chief executive at the beginning of next year with the arrival of Michael Downey from Tennis Canada. And he will find things very neat and tidy in many respects with several long-term deals renewed for the beginning of his tenure. Last week the LTA announced a new clothing deal with Nike and now there is news of a four year extension to the partnership with Babolat as the Official Equipment Supplier.
Babolat Launches Pure Strike Racquet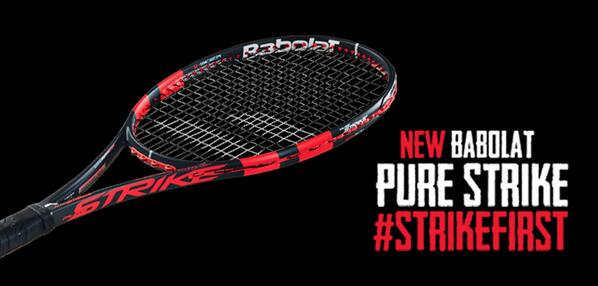 Born out of research and feedback from players, Babolat has produced the new Pure Strike racquet.
Designed for "First Strikers" who have an attack-based game and take the ball early, this racquet offers reactivity and precision, thanks to a hybrid frame construction with specific technologies. The Babolat Pure Strike racquet will be available at authorized retail outlets starting mid-January 2014.
Prince Releases Fall Racquet Collections
Prince announced the release of their Fall 2013 Racquet Collections including a Classics Series and new performance models featuring their latest technological innovation Extreme String Pattern (ESP) Technology.
To receive the full stories, subscribe to Daily Tennis News - HERE
---
Daily Tennis News—Business
Bob Larson Tennis produces several tennis newsletters. One of these is Daily Tennis News—Business. This publication is a daily report on the money in tennis; Who is getting the money, Where does it come from, What do they do with it and Where does it go.

If you are interested in the business side of tennis, you will find it interesting. For a free copy of Daily Tennis News—Business, just send an email to bob@tennisnews.com and say you want a sample of Tennis Business.
***
Tennis Job of the Day
Southern Trace CC, Shreveport, Louisiana, is seeking a head pro. 318 798 8300.
Bob Larson's Tennis is offering a special deal to first time subscribers. For only $17 Larson is offering an End of the Year subscription. Subscribe now for $17 and receive Daily Tennis Jobs until December 31, 2013. Contact bob@tennisnews.com.
Bob Larson's Tennis publishes Daily Tennis Jobs newsletter, a daily list of available tennis jobs throughout the US market. Only $10 a month. For a free sample of the current list, just email bob@tennisnews.com and say you want a free sample of Jobs.
***
A Collection of Tennis Images For Sale
A professional tennis photographer has been shooting for almost 40 years at all the major and minor tennis tournaments for the wires systems, daily newspapers, magazines and advertising agencies. He has been to venues all over the world and has compiled tennis images (archives) of all the professionals and some juniors. The images have all been preserved in a temperature-controlled environment and are color positives (slides), color and black & white negatives and contact sheets, as well as digital. There are in excess of 400,000 images and they are for sale. Seller will transfer copyright and will give total usage to the purchaser. Lists available with players, tournaments, dates, etc. For more information please contact 954-448-4999.
---
Provide Daily Tennis News Briefs to your membership
Contact us at 952-920-8947 for details or email bob@tennisnews.com
---
THIS WEEK

MEN
Basel
Valencia

WOMEN
Istanbul

NEXT WEEK

MEN
Paris

WOMEN
Sofia

Today's tennis results can be found at www.tennisnews.com in the right column.
---
© Copyright 2013. No duplication is permitted without permission from Bob Larson Tennis