Tuesday, February 4, 2014
DAILY TENNIS NEWS - BRIEFS
© Copyright 2014 Daily Tennis News Wire. All rights reserved. www.dailytennis.com
---
Devvarman Wants To Focus On Younger Indian Team
Somdev Devvarman says that with India's recent Davis Cup win over Chinese Taipei without veterans Leander Paes and Mahesh Bhupathi that it is time to shift focus toward the younger players.
Former touring Anand Amritraj sat in the captain's chair. He replaced S P Misra, whose exit was a result of the players' revolt. Devvarman and Yuki Bhambri, played singles with Rohan Bopanna and Saketh Myneni playing doubles.
While He Waits, Nadal Plays Online Poker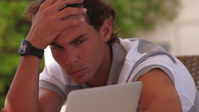 As he waits to see if his back injury from the Australian Open final will allow him to travel to South American later in the week to resume on the ATP, Rafael Nadal has taken a time at home in Mallorca to play some charity hands for sponsor PokerStars.

Berdych's Future Davis Cup Commitment Is Unsettled
Tomas Berdych has been integral to the Czech Republic's success in Davis Cup, playing both singles and doubles in the two title winning campaigns of 2012 and 2013. But now it seems he is about to join the list of leading players whose commitment to the 114 year team event is conditional.

Lendl Is Satisfied With His Work With Murray
Enigmatic Ivan Lendl appears to be quietly satisfied with the work he's done over the past few seasons with Andy Murray, taking the Scot to his first two grand slam titles. The 53-year-old Czech who never, ever lets his emotions get out of hand and is known for sitting stone-faced through the most dramatic of matches.

Davis Cup Veterans Received ITF Commitment Awards
Two-time Czech Davis Cup champion Radek Stepanek and former French winners Guy Forget, Henri Leconte, Yannick Noah and Cedric Pioline are among the latest group of players to be presented with the Davis Cup Commitment Award.
Belarus - Max Mirnyi, Vladimir Voltchkov
Czech Republic – Radek Stepanek
Ecuador - Andres Gomez, Giovanni Lapentti, Nicolas Lapentti, Luis Morejon, Ricardo Ycaza
Finland - Tuomas Ketola, Jarkko Nieminen, Olli Rahnasto
France - Francois Jauffret, Guy Forget, Henri Leconte, Michael Llodra, Yannick Noah, Cedric Pioline
India - Vijay Amritraj
Norway - Jan-Frode Andersen, Christian Ruud
Paraguay – Ramon Delgado
To receive our full stories, subscribe to Daily Tennis News - HERE
---
Daily Tennis News—Business
Bob Larson Tennis produces several tennis newsletters. One of these is Daily Tennis News—Business. This publication is a daily report on the money in tennis; Who is getting the money, Where does it come from, What do they do with it and Where does it go.

If you are interested in the business side of tennis, you will find it interesting. For a free copy of Daily Tennis News—Business, just send an email to bob@tennisnews.com and say you want a sample of Tennis Business.
***
Tennis Job of the Day
The Landings Club, Savannah, Georgia, seeks a pro. 912 598 8050.
Bob Larson's Tennis publishes Daily Tennis Jobs newsletter, a daily list of available tennis jobs throughout the US market. Only $10 a month. For a free sample of the current list, just email bob@tennisnews.com and say you want a free sample of Jobs.
***
Tennis Job of the Week
Sales Manager
The College Park Tennis Club (CPTC) is interviewing for a full time sales manager. Benefits include health insurance.
The CPTC is a premiere tennis club located just outside downtown Washington, DC. The College Park Tennis Club is a USTA Regional Training Center, home of the Junior Tennis Champions Center training program, as well as, the University of Maryland tennis team. The CPTC is an award-winning facility and is recognized as one of the most comprehensive tennis venues in the United States.
Sales Manager is responsible for new memberships and retention. Duties include internal and external lead generation, networking, prospecting, tours, corporate outreach and helping promote our patented beginner tennis program, Rally in 10. Must be proficient with all social media, including generating leads on our upcoming website. A tennis playing/teaching background is preferred and an appreciation of the values of the sport is mandatory.
Email your resume to apant@cptennisclub.com.
***
Tennis Job of the Month
"The USTA/Midwest Section is looking for a full-time Adult Program Coordinator. The Adult Program coordinator duties will include promoting, recruiting and coordinating participation in the USTA League Program as well as promoting, developing and growing the USTA/Midwest Section Tennis on Campus program. The submission deadline for resumes and cover letters is February 28, 2014. Please send resumes and cover letters to midwesthr@midwest.usta.com. For more information on this position, visit the USTA/Midwest Section at www.midwest.usta.com."
***
A Collection of Tennis Images For Sale
A professional tennis photographer has been shooting for almost 40 years at all the major and minor tennis tournaments for the wires systems, daily newspapers, magazines and advertising agencies. He has been to venues all over the world and has compiled tennis images (archives) of all the professionals and some juniors. The images have all been preserved in a temperature-controlled environment and are color positives (slides), color and black & white negatives and contact sheets, as well as digital. There are in excess of 400,000 images and they are for sale. Seller will transfer copyright and will give total usage to the purchaser. Lists available with players, tournaments, dates, etc. For more information please contact 954-448-4999.
---
Provide Daily Tennis News Briefs to your membership
Contact us at 952-920-8947 for details or email bob@tennisnews.com
---
THIS WEEK

MEN
Montpellier
Vina del Mar
Zagreb

WOMEN
Fed Cup

NEXT WEEK

MEN
Buenos Aires
Memphis
Rotterdam

WOMEN
Doha
Today's tennis results can be found at www.tennisnews.com in the right column.
---
© Copyright 2014. No duplication is permitted without permission from Bob Larson Tennis